A new study titled ″Brexit and Power in the Council of the European Union″ by László Á. Kóczy in MDPI Games
2021.07.06 | 09:12
Games 2021, 12(2), 51; Published: 21 June 2021. This article belongs to the Special Issue: Weighted Majority Voting Games. Free full text.
by László Á. Kóczy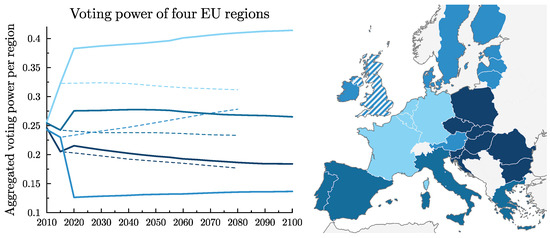 Abstract
The exit of the United Kingdom from the European Union has had profound economic and political effects. Here, we look at a particular aspect, the power distribution in the Council of the European Union. Using the Shapley–Shubik power index, we calculate the member states' powers with and without the United Kingdom and update earlier power forecasts using the Eurostat's latest population projections. There is a remarkably sharp relation between population size and the change in power: Brexit increases the largest members' powers while decreasing the smallest ones' powers.
Keywords:
European Union; Council of the European Union; qualified majority voting; power index; a priori voting power; demographics
Kiemelt híreink
After its postponement due to the Covid-19 crisis, the Congress took place 20-23 July 2021 in an online format. The theme was: Raising the Impact of Agricultural Economics: Multidisciplinarity, Stakeholder Engagement and Novel Approaches
A Külügyi és Külgazdasági Intézet kiadványa (Budapest, 2021). A kötet a legfontosabb külső szereplők (USA, Oroszország, Németország, Törökország és Kína) nyugat-balkáni politikáját és jelenlétét vizsgálja, továbbá hasonlítja össze.
KRTK Blog - Portfolio - 2021. július 25.
További híreink »