Megjelent Szabó-Morvai Ágnes és Bíró Anikó cikke a The European Journal of Health Economics tudományos folyóiratban
2021.04.12 | 11:59
Published: 09 April 2021
Anikó Bíró & Ágnes Szabó-Morvai
Abstract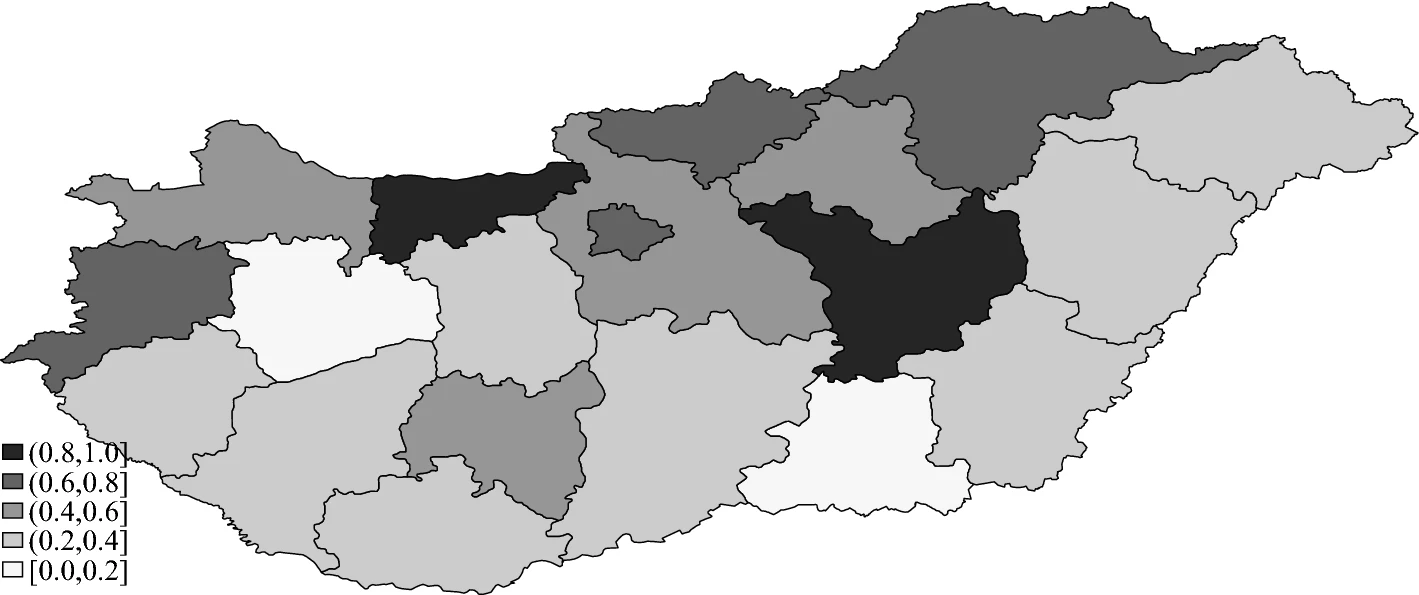 Cases of invasive meningococcal disease
per year per 100,000 inhabitants
(average over 2009–2017)
We estimate the effect of mass media coverage of the meningococcal disease on the uptake of meningococcal vaccinations in Hungary. Our analysis is based on administrative county-level data on vaccination purchases linked to indicators of media coverage of the meningococcal disease and to administrative records of disease incidence. Using geographical and time variations in these indicators, our fixed effects estimates indicate a strong positive effect of mass media coverage of the disease on the rate of vaccination with all types of the meningococcal vaccine. At the same time, we do not find evidence that disease incidence itself has a positive impact on vaccination. These findings are broadly in line with imperfect information and the principles of bounded rationality and highlight the responsibility of mass media in influencing health-related behaviours.
Kiemelt híreink
The Department of Finance, Corvinus University of Budapest and the Game Theory Research Group, Centre for Economic and Regional Studies are organizing the Annual Financial Market Liquidity Conference for the twelfth time. This year, Corvinus University of Budapest hosts the conference both onsite as well as on a virtual conferencing platform allowing for a hybrid and flexible format.
Tíz éve, 2011 tavaszán rengette meg az arab tavaszként aposztrofált forradalmi hullám a Közel-Kelet és Észak-Afrika autoriter rezsimjeit. A Tunéziában kipattant szikra Egyiptomban, Líbiában, Jemenben, Szíriában és Bahreinben is komolyan megrengette az addigi politikai berendezkedést, de szinte az összes arab országban a kormányzat elleni tüntetésekhez, utcai demonstrációkhoz vezetett. Az arab tavasz elsődleges oka a romló életkörülményekben, a perspektívák hiányában volt keresendő – de vajon egy évtizeddel a forradalmi hullámot követően változott-e a helyzet, javultak-e az arab államok gazdasági kilátásai?
Published online: 6 April 2021 in New Medit, A Mediterranean Journal of Economics, Agriculture and Environment, Vol 20 N. 1 (2021)
További híreink »